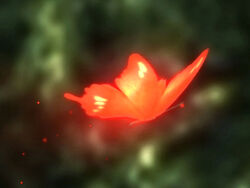 A Crimson Butterfly is a spiritual symbol signifying a soul of person within All God's Village in Fatal Frame II: Crimson Butterfly. Crimson butterflies aren't a part of the natural fauna in the region as they are spirits, rather they are unique to the lost village. Each butterfly represented one twin that was sacrificed through the Crimson Sacrifice Ritual. It is believed that after the sacrifice, the soul escapes in the form of a red, shimmery butterfly and is free to join the other souls around the village, acting as a guardian deity. Many objects and places in the game are decorated by the butterflies, including diaries, keys and the local shrine. Its importance to local folklore and its connection to the spirits of the village warrants its place in the title of the game.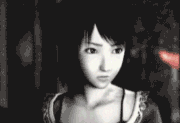 Before the Repentance that ended the village, it seemed many of the crimson butterflies returned to the village. Following the disaster, crimson butterflies have been seen in the region, spiriting away those that come near the lost village. It was in this way that Mio and Mayu became trapped within.
Origin
[
]
The idea behind the crimson butterfly comes from the imprint left on the neck after being asphyxiated.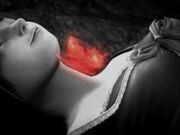 Since the people of All God's Village believed the best form of sacrifice came from one twin strangling the other, the butterfly shape was one commonly seen and identified with. By wrapping both hands around the neck and pressing opposing thumbs over the jugular, the skin would become flustered by loss of oxygen and turn a deep red mark in the shape of a flattened 'v', a shape very similar to a butterfly.
Folklore
[
]
In addition to symbolizing the sacrificed, the people of the village also held the butterflies in high regard, believing that their ascension to the sky brings light upon the village. An old tome found in the Kurosawa House makes light of this belief:
"Shrine Maidens of the past and future, made into Crimson Butterflies,
return from the ✱, as guardians of the village.
Those that become butterflies ascend to heavens, parting the skies
above, inviting the light upon us."
Trivia
[
]
The bows in the center of Mio and Mayu Amakura's shirts are made to resemble the crimson butterfly.
The design on Chitose Tachibana's kimono features butterflies on a crimson background.
See Also
[
]
Village Report 3
Folklorist 3
Gallery
[
]