Jurassic World: Dominion Dominates Fandom Wikis - The Loop
Play Sound
Fatal Frame: Maiden of Black Water

零 〜濡鴉ノ巫女〜
Zero: Nuregarasu no Miko
Project Zero: Maiden of Black Water
Developer(s)
Koei Tecmo
Nintendo SPD Group No. 4
Shirogumi, Inc.
Publisher(s)
Nintendo

Koei Tecmo

Release date(s)
September 27, 2014 (JPN, Wii U eShop)
October 22, 2015 (NA)
October 30, 2015 (EU)
October 31, 2015 (AUS)
Remastered: 2021
Ratings
CERO D (17+) (JPN)
MATURE (M) (US)
PEGI +18 (EU)
Mature Accompanied (MA) (AU)
Platform
Nintendo Wii U,
Remastered: Nintendo Switch, Microsoft Windows (via Steam) Playstation 4, Playstation 5, Xbox One, Xbox Series X/S
Fatal Frame: Maiden of Black Water, known as Project Zero: Maiden of Black Water in Europe, and as Zero: Nuregarasu no Miko (lit. Zero: Wet Crow Shrine Maiden) in Japan, is the fifth installment of the Fatal Frame series.
The game was announced on April 2014 and was co-developed by Tecmo Koei and Nintendo SPD Group No. 4 for the Wii U. It was published and released on September 27, 2014, in Japan by Nintendo. However, on the day of the Japanese launch, an official NicoNico stream featuring the movie actresses playing the first hour of the game featured a different English version of the game's title on its website - Fatal Frame: Oracle of the Sodden Raven.
The game will release outside of Japan. The Nintendo Direct of April 1, 2015, officially announced that Fatal Frame 5/Project Zero 5 will be released later in 2015 for Europe and North America. During E3 2015 Nintendo of America released a video of the game with the official English title being Fatal Frame: Maiden of Black Water.[1]
During E3 2021, a remastered version of Maiden of Black Water was revealed to be coming to Nintendo Switch during Nintendo's E3 Direct. On that same day, Koei Tecmo revealed a trailer that the remastered version of Maiden of Black Water will not only come to Nintendo Switch but will also come to PC via Steam, PS4, PS5, Xbox One, and Xbox Series X/S. This marks the first time that a Fatal Frame game will be playable on PC, and the first time to have the series being no longer exclusive to Nintendo ports.
Overview
[
]
In April of 2014, it was revealed through the Japanese magazine Famitsu that Koei Tecmo and Nintendo were partnering again to develop a Wii U entry in the Fatal Frame series. Shigeru Miyamoto from Nintendo introduced the game at a special live-streamed event in July 2014. The game focuses heavily on water and takes place in Hikamiyama, also known as the Mountain of Death, inspired by the fabled Aokigahara forest (also called the Suicide Forest) where many people go to commit suicide. The areas in the game are very open and the largest in the series. Players will use the Wii U GamePad as the Camera Obscura to capture ghosts.
Following the game's announcement, Team Ninja said that it makes use of some tech from their recent fighting game, Dead or Alive 5. A translation of the tweet reads:
| | | |
| --- | --- | --- |
| " | While you may have noticed after watching the video, the latest Fatal Frame game that was announced the other day uses some technology from Dead or Alive 5! | " |
Story
[
]
Plot
[
]
The main character, Yuri Kozukata, works at an antique shop and is able to see the "shadow" of objects she touches and can bring people back from the "shadow world". Yuri's gift is the reason she distances herself from other people but she also uses it to help others find lost items or missing people when they come asking for help.
One day, a girl called Fuyuhi Himino enters the store with a request for Hisoka Kurosawa to find a friend of hers, Haruka Momose, who has gone missing around the area of Mt. Hikami. Unfortunately, Hisoka was currently absent at the time, so Yuri takes up the request herself instead. People with such intentions enter the forest during the witching hour when the border between the world of the living and the hidden world of the shadows becomes blurred. It is said that those ending their own life there can die a clean, "proper" death and not become trapped as ghosts between worlds when committing suicide elsewhere.
Both Yuri and Fuyuhi enter the forest but at some point Yuri sees Fuyuhi standing across a river with a knife to her throat, seemingly cutting it as the screen fades to black. Presumably, the shrine maiden mentioned in the title, Ouse Kurosawa, is causing trouble in the area.
Playable Characters
[
]
There are three main characters: Yuri Kozukata, Miu Hinasaki, and Ren Hojo.
Yuri Kozukata is able to see the history of objects she touches and brings people back from the spirit world. She goes out looking for the owner of the Kurosawa Antiques Shop, Hisoka Kurosawa, who has gone missing in the mountain area of Hikamiyama.
Miu Hinasaki goes to Hikamiyama in search for her mother Miku Hinasaki, who vanished when she was young.
Ren Hojo is an author who has known Yuri and Hisoka for a long time. He travels to Hikamiyama after hearing of a custom involving burial photos, to research for his new book.
Ayane is a playable character in a bonus episode of the game. She is requested to find Tsumugi Katashina, who disappeared at the mountain.
Non-Playable Characters
[
]
Gameplay
[
]
As many speculated since the Wii U's reveal, the game will utilize the Wii U GamePad's gyro-sensor to let it act as a real-world analog to the Camera Obscura that the player can move around to capture ghosts in the game.
New to the series is a sprint-feature that should speed up the character movement when necessary as the slow walk-speed was often criticized in the previous games.
The three settings of the game are Mikomori Onsen, Kurosawa Antiques, and Shirazu no Mori.
Abilities
[
]
Fatal Glance (Mitori): Through Mitori, the player will be able to see how the person originally died when they manage to touch the ghost upon defeat. Successfully glancing a ghost will yield extra points for the player.
Spirit Fragments (Reihen): When a ghost takes damage, ghost fragments will appear around it. If players manage to photograph several of them together with the ghost, it will take extra damage. However, after a while, these fragments will rejoin with the ghost and restore some of its health.
Psychometry (Zanei): Zanei is a gift used to track down people by following their past shadow. The character focuses on an object touched by the person in question which will reveal their shadow and lets the player follow their path and eventually find them.
Sprint Feature: New to the series is a run feature that should speed up the character movement when necessary as the slow walk speed was often criticized in the previous games. However, this does not mean players will be able to easily run away from every danger as water will provide a natural hindrance and slow down movement.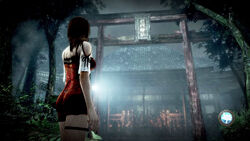 Wetness Gauge: As Koei Tecmo originally stated during the reveal, the game is heavily centered around the concept of water. This manifests itself not just in the locations and atmosphere but also in a gameplay mechanic referred to as wetness, indicated by the Wetness Meter on the screen. The wetter the character becomes, the stronger their spirit power and thus also their attacks with the Camera Obscura will be. However, this also means that they will encounter more ghosts and the player's defense is lowered, as well. Consequently, getting attacked by a spirit will also result in the Wetness Meter going up.
Purifying Embers: Wetness is a status that clears up over time but players can choose to instantly deal with it by using an item called the "Purifying Flame." Certain ghosts afflicted with the "yomi nure" status effect can transfer this status over to the player with an attack which will result in a lowered defense, reduced vision and gradual loss of health. This status can also be cured instantly by using a Purifying Flame or by defeating all ghosts in the area.
Viewfinder Mode: Rather than the viewfinder focusing on the screen in front of the player, there is now a rectangle inside the viewfinder denoting what will be in the player's shot. This rectangle is, however, rotatable, allowing the player to take diagonal or portrait shots as opposed to purely landscape like in previous games.
Another major change to the viewfinder is the removal of the Charge feature. In exchange, each spirit now has marked spots in the viewfinder alongside a specific spot that can be focused on. Should five of these spots, including Spirit Fragments, be in a single shot, it will provide the player with a Shutter Chance. A timer was also added during Fatal Frame shots.
Character Differences Like Fatal Frame III: The Tormented both Ren and Miu have distinguishable gameplay changes from Yuri, who only uses the base mechanics. Ren, unlike Yuri and Miu, uses a double lens camera that prevents him from swapping out his lens but also allows him to rapid fire shots in succession. Miu, like Miku, is able to spend Spirit Energy to slow down enemies.
Bonus Chapter
[
]
As a bonus, after completing the game, a special bonus scenario starring Ayane of the Dead or Alive series is unlocked. The basic premise is that she has come to the village in search of a missing girl named Tsumugi Katashina. Tsumugi, like Ayane, felt ignored while her half-sister was lauded with attention and care. She had previously tried to commit suicide, but after failing that, traveled to Hikami Mountain, where she disappeared.
The gameplay of Ayane's chapter is radically different from the primary gameplay mode. Ayane is heavily injured, taking away her normal athleticism, she has no way to fight the ghosts, and thus must rely on stealth. If she gets too close to a ghost or starts to run, the ghosts will be able to see her.
Ayane can activate a cloaking spell associated with a tattoo on her back to hide from the ghosts' perception. Additionally, she uses a Spirit Stone Flashlight to knock back and stun ghosts if they manage to catch her.
Ranking
[
]
Unlike previous games, each chapter now has its own rank based on the amount of points the player has accumulated in the chapter, time completed, and remaining consumables obtained, but subtracting points for those purchased at the chapter's beginning.
If the player successfully achieves S+ rank in both Normal and Nightmare mode for all chapters, including Ayane's Bonus Chapter, the player is awarded with the Festival Function.
Responses regarding an international release
[
]
On September 29, Koei Tecmo Europe gave a response through their twitter account, about the game's release outside of Japan. They stated the following:
| | | |
| --- | --- | --- |
| " | And regarding #WeWantFatalFrame requests, as far as we know this title is JP release only. Back to the office tomorrow FYI. #KTfamily | " |
English Title
[
]
The current common translation of the subtitle is The Black Haired Shrine Maiden or The Raven Haired Shrine Maiden but a more literal translation is The Wet Crow Shrine Maiden, likely referring to the game's antagonistic main ghost. The word Miko can also be interpreted as a priestess.
The mix-up in title translations comes from the word 濡鴉 (Nuregarasu.) While the 2 kanji used to make the word is "wet" and "crow/raven," it is not calling the Shrine Maiden a "wet crow" or "raven-haired girl."
Nuregarasu is actually a word used to describe "beautiful" and "healthy" female black hair that has a slight blue, green and/or violet color infused in its shine, much like crow/raven's feathers do when they are wet, hence the "wet crow." Other words to describe the same color-infused black in Japanese are: 烏羽色 (Karasubairo, Lit. Crow wing color), 濡れ羽色 (Nurebairo, Lit. Wet wing Color), and 烏の濡れ羽色 (Karasu no nurebairo, Lit. Wet crow wing color.)
The closest translation out of the few titles going around would be the "Black Haired," as there is not a word to match the meaning for the original Japanese, although "Raven-haired" would probably be more apt.
Despite a statement on Koei Techmo's European twitter site in September, in response to fan questions about the game's possible localization, that the game would remain exclusive to Japan, there have been indications that localization is being considered. During a NicoNico Livestream to promote the game at release, an English message was displayed during the broadcast, describing the contents. It also referred to the game as "Fatal Frame V: Oracle of the Sodden Raven".[2][3]
Later, former Tecmo employee Tomonobu Itagaki stated on Twitter that Kikuchi Keisuke, the game's producer, would release the game in North America, instructing fans to "read between the lines" in the meantime.[4]
Finally, during Nintendo's June 2015 Electronic Entertainment Expo events, the final English subtitle, "Maiden of Black Water" was revealed.
Interviews
[
]
Famitsu interview
[
]
In an interview with Shibata, Kikuchi, Ozawa, and Ohtani (the new planner), it was stated the following:
| | | |
| --- | --- | --- |
| " | They start off by asking why they chose the Wii U. Kikuchi responds that the first time he saw the gamepad, he thought it was made for FF. To make it a good combination they decided on two things: a story and worldview that would extend expression, and turning the gamepad into the Camera Obscura for a good play experience. Now Ohtani says that when he joined the team, they initially tried to think of a different kind of FF game not using a camera, for example having a gun or sword, or a sci-fi setting such as in Metroid, but decided the camera was better in terms of making you face scares upfront. | " |
| | | |
| --- | --- | --- |
| " | Ozawa says that, since it was a brand new game on a brand new console, they specifically sought members for the team who'd not worked on an FF game before, to expand their borders. They took all of those new ideas and put them together. Kikuchi says the ideas they came up with were: a horror with lots of kinds of fear; places where you could experience realistic ghost spots; lots of beautiful girls; and the charm of the expression of being wet. The most important thing at its core was the story. Shibata chose black as the key colour and they made a bunch of things, turning it into its current form. | " |
| | | |
| --- | --- | --- |
| " | Ozawa says that, in preparation, they watched a lot of scary videos online, and got together lots of data about being wet and the light. Kikuchi says they adjusted the graphics as they went along; that they may look pretty, but you lose something from it, since the FF games are known for creating fear via the imagining of things you can't see. For this reason, despite being told that the graphics were pretty, they edited the mitori movies to make them quite hard to see, and it took a lot of work. Shibata says that at first they only obscured the images a little, but with newer games they've ended up becoming clearer. You can see them well, but there are new effects in there to give them atmosphere. | " |
| | | |
| --- | --- | --- |
| " | Ohtani says that they made it as dark as possible, but sometimes making it too dark impedes gameplay, so it was difficult to adjust. Ozawa likes how clear the lighting from the torch on an HD console is. Shibata adds that, ultimately, playability won out over darkness. | " |
| | | |
| --- | --- | --- |
| " | Ozawa says that they spent a lot of time on the game for those who found the others too difficult to play. Shibata says that a movie, manga or novel has developments too, so they were careful to make it so that new people could play it easily as well. One of the concepts they thought of to help out new players was reihen, because you can do damage even from far away, and the second was zanei, to guide the player. You have conversations at the start and end of a mission as well, making the story easier to understand. | " |
| | | |
| --- | --- | --- |
| " | Shibata says that one of the things they wanted to try out, now that the Wii U can do it realistically, is water. When you're outside you can run quickly, but water creates resistance that slows you down, so you can't escape from ghosts. He'd normally want people to be looking behind them in fear, but the tempo of play is more like that of an action game to make it more suitable for first-timers. | " |
| | | |
| --- | --- | --- |
| " | The interviewer brings up how the clothes go seethrough when they get wet. Shibata laughs, because it's something he wanted to do. Kikuchi says their clothes were designed to make them look sexy when wet. Their normally floaty clothes, says Ozawa, get stuck to them, and Shibata says that there's a wet scene in the very intro, so look out for it. They also spent a lot of time thinking about how water drips when they stand up, for example from the collarbone to the chest. Ozawa jokes that Shibata spent a lot of time thinking about collarbones for this game. | " |
| | | |
| --- | --- | --- |
| " | They say that many parts of the game system are aimed at new players. Each of the three characters proceeds along from their own unique point of view, converging in the ending. However, on the other hand, a lot of things in the story are aimed at existing fans of the series. As well as the main characters, there are several partner characters of various types who accompany them. | " |
| | | |
| --- | --- | --- |
| " | In terms of costumes, each character has a few types. There are accessories, too, so you can pair them up as you like. They had a lot of glasses – for example, student ones to go along with a student outfit, because Shibata thought it necessary. | " |
| | | |
| --- | --- | --- |
| " | Ayane comes from Team Ninja's Hayashi, who requested she be in the game. Everyone came up with ideas and decided not to make it a standard bonus, but make a proper episode out of it. You get to enjoy sneaking around, with a different weapon. Since it's DoA, they've naturally made sure to bring out her beauty and sexiness. They spent a lot of time adjusting things like the wobble of her chest. Team Ninja gave them lots of advice. | " |
| | | |
| --- | --- | --- |
| " | They finish up by reiterating that the game can be played by both old and new players, and that the story is large and easy to understand. | " |
Guidebook interview
[
]
An interview featured in the game's official guidebook, with Keisuke Kikuchi (producer) and Makoto Shibata (director), was published as below:
Media Tie-Ins
[
]
Along with the game, multiple multimedia franchise tie-ins were announced such as a Japanese movie, a novel, a manga as well as a Hollywood movie adaptation. Most of these were detailed and revealed along with the game during a dedicated Fatal Frame event on July 17, 2014.
Sales in Japan
[
]
Fatal Frame V was released on September 27 at the price of ¥7.128.
Below is displayed the weekly results based on Media Create and Famitsu's software sales charts (number of sales vary depending of the chart):
VGChartz
[
]
Below is displayed the number of units sold in Japan according to VGChartz:
Japan: 0.06m (100.0%)
Rest of the World: 0.00m (0.0%)
Global: 0.06m
As of February 21st 2015, 0.06m units were sold. [18]
Reviews
[
]
The four reviewers of Famitsu gave the game 7, 8, 9 and 9 for a total of 33 out of 40.
The translated reviews were as follows:
"
Reviewer 1

The familiar attacking item of the series, Camera Obscura, is a good match for the Wii U GamePad. It feels like you are looking through a big camera. Taking photos by tilting the GamePad is fun and adds plenty of feeling to be there. The controls are sluggish being tuned to a horror game, but on the other hand, it does add the feeling of fear. The costumes which can be obtained while playing are quite radical so do they also have an effect to neutralize scariness!?

"
"
Reviewer 2

The mechanism to use the Wii U GamePad as a camera to take pictures is good in creating the sense of being there. The battle system is exciting and it involves capturing vengeful spirits by moving and tilting the GamePad at the right moment. The scenery which is influenced by water has good atmosphere and sexy elements like seeing through wet clothes are nice. Although the poor maneuverability of the character's movement and viewpoint incites fear, at the same time it feels irritating.

"
"
Reviewer 3

The game makes great use of the Wii U's GamePad. It is unique in the sense it is both your map as well as your camera. As the game is built around the potential failure to take a picture at the right moment, it adds a lot to the atmosphere and story. The player character stands out as a girl with sexy stances and beautiful expressions, and while this makes it less horrifying, it is something that those who appreciate horror movies can look forward to.

"
"
Reviewer 4

As a ghost may appear at any time and you don't want to miss your chance to take the picture, it is necessary to have the Wii U GamePad ready in your hands. Since the GamePad is used as a Camera Obscura in fights, battles have greater sense of being there. There is an abundance of things that cause fear and that's great. It is of course recommended to use headphones and if possible, play in a pitch black room, stare at the GamePad, and have a thrilling time!

"
Trivia
[
]
Fatal Frame V is the game with the highest age rating in the series, earning a CERO D (17+) rating, unlike the previous games that earned a CERO C (15+) rating (except Spirit Camera: The Cursed Memoir that earned a CERO B (12+) rating).

This is probably because of the engine technology used, is from Dead or Alive 5 which features wet and dirt physics. For example, when Yuri becomes wet, her bra can be seen.

As Miku is 17 in the first game, which takes place in 1986, and is 37 in this game, this places the year this game takes place in at circa 2006-2007, depending on when Miku was born.
This the first game for a PlayStation console since the releases of the first Fatal Frame, Fatal Frame II: Crimson Butterfly and Fatal Frame III: The Tormented for the North American PlayStation 3 store in 2013.

This is also the first game for a Microsoft console since the Director's Cut of Fatal Frame II: Crimson Butterfly, released for the Xbox in 2004.

In an interview with Famitsu Magazine (September 24, 2014 issue), series director Makoto Shibata revealed the key color chosen for the fifth game was black.
Unlockable bonus character Ayane from Dead or Alive was put in the game as per Yosuke Hayashi's (Team Ninja) request.
The game uses some unspecified technology from Dead or Alive 5, as revealed by Team Ninja's Twitter account. Also characters facial design is similar to characters from Dead or Alive series.
During the initial planning stages, the developers were considering not using the Camera Obscura in the game and potentially setting it in a completely different scenario such as science fiction or something with swords or guns.
They chose many employees who previously had never worked on a Fatal Frame-title before when assembling the team for this game to bring in new ideas.
The official main theme song "Higanbana" by Anju is available on Amazon.
Series veteran singer Tsuki Amano returns to provide at least one song for the game, titled "Torikago ~in this cage~."
The game takes up nearly 16GB of space, according to an official Nintendo page. Save data takes up another 32MB. The same page also confirms that the game only supports the GamePad. No other controllers work in the game.
In the NA and EU releases of the game some changes were made. Yuri's frilled bikini and Miu's gravure outfit were replaced with costumes of Nintendo characters, Zelda and Zero Suit Samus. As well as a Miu's gravure cutscene replacing her outfit with her default costume instead. Finally all the characters (including spirits) with breast physics have been toned down and are more subtle unlike the original version which appeared more similar to that of Dead or Alive. When the game was rereleased for PC, PS4/PS5, Xbox One and Nintendo Switch, neither pair of outfits, neither pair of costumes returned as they were both replaced with a blue bikini for Yuri and a pink bikini for Miu. The censored gravure cutscene, however, would remain for all versions of the rerelease.
Gallery
[
]
Settings
[
]
Videos
[
]
External links
[
]