"Still... not... enough... Please forgive me."
This article is still incomplete. It is currently under development.
| | | |
| --- | --- | --- |
| | This article is a stub, you can help Fatal Frame Wiki by expanding it. | |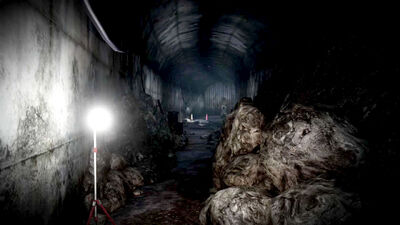 Hikami Tunnel, is a setting in Fatal Frame: Maiden of Black Water.
The tunnel was constructed as part of the movement to turn Mt. Hikami into a tourist destination, with the tunnel being constructed directly under the mountain to provide a path through, possibly to provide easy access to the Cable Car station.
During the project, the construction workers accidentally hit a large body of water in the Womb Cave, flooding the area and killing all the workers present. Work resumed, but when the landslide on Mt. Hikami occured, all visions of turning the mountain into a tourist destination died, and the project was abandoned, worker equipment still strewn about the area. It is still half flooded, and suffers from water damage. Yuuri even comments that it seems like the tunnel could collapse at any moment.