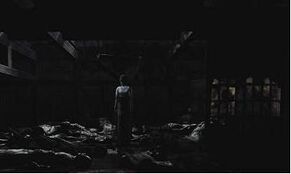 The Kurosawa House (黒澤家, Black Swamp residence) is a setting in Fatal Frame II: Crimson Butterfly. It is the home of the most influential family in All God's Village. It is also the largest structure in the entire village, akin to a mansion, and is the site of the village's most sacred rituals.
It is located at the northern point of the village, separated from the other areas of the village by a long bridge known as Whisper Bridge. It is in this house that Mio and Mayu Amakura discover the disaster that befell the village, as well as their roles in freeing the village from the darkness.
Room
[
]
Underground
[
]
Connecting Corridor (Linking Walkway)
Underground Cellar (Underground Storeroom)
1F
[
]
Antechamber (Chamber of Contrasts)
Bloodstained Room (Blood-Filled Room)
Cloth Hallway (Draped Corridor)
Connecting Corridor (Linking Walkway)
Courtyard Staircase (Inner Garden Stairs)
Dirt-floor Passageway (Linking Corridor)
Entrance (Entranceway)
Family Altar Room (Altar Room)
Grounds
Lattice Room
Rope Temple (Rope Chamber)
Spiral Hallway (Spiral Corridor)
Storage Room (Storeroom)
Warehouse (Filthy Storeroom)
2F
[
]
Courtyard Staircase (Inner Garden Stairs)
Doll Stand Room
Flickering Room
Guest Room (Parlour)
Guest Room Hallway (Parlour Corridor)
Master's Room
Meditation Room
Partition Screen Room (Screen-Divided Room)
Trivia
[
]
While it was not explained in any guidebook, this location is presumed to be the home of Ose Kurosawa before she was transferred prior to the events of the Repentance. It wasn't even mentioned in Fatal Frame: Maiden of the Black Water.

In addition, Mio did not appear or get mentioned in-game. Ironically, since the events of third installment, it is unknown which of the two endings are canon, as this would even cause an outrageous confusion among the viewers when there is no clear evidence.