Mafuyu Hinasaki

Japanese name
雛咲 真冬
Romaji name
Hinasaki Mafuyu
Age
21
Hair color
Black
Eye color
Black
Occupation
Journalist/ Aspiring Folklore Author
Status
Deceased Fatal Frame I et III

        Résusité mais amensique:Fatal Frame Vi: 
        Vivant:Fatal Frame VII,VIII,X


Family
Hinasaki family
Ryokan Kurosawa (great-great-grandfather)
Ryozo Munakata (great-grandfather)
Yae Kurosawa (great-grandmother)
Mikoto Munakata (grandmother)
Masato Hinasaki (father)
Miyuki Hinasaki (mother)
Miku Hinasaki ( sister/ aimante)Miu Hinasaki
Appearances
Fatal Frame
Fatal Frame III: The Tormented
Fatal Frame V: Oracle of the Sodden Raven
Voice actor (Jp)
Jun'ichi Kanemaru
Voice actor (Eng)
Dominic Allen
Mafuyu Hinasaki (雛 咲 真 冬 Hinasaki Mafuyu) est un personnage masculin et 1e protoganosite que le joueur contrôle dés le début de Fatal Frame et Fatal à la suite des événements du jeux il reste auprès de Kirie pour l'aider à remplir son devoir jusqu 'au jour du rituel de Live et devient un esprit bénéfique et non agréssif dans Fatal Frame III: The Tormented et fait tout ce qui est en sont pouvoir pour éloignier Miku du Manoir du Sommeille mais finira par la gardé au près de lui et faire d'elle sa compagne à la fin du jeux
Son rôle dans Fatal Frame V est totalement opposé a ceux qu'il avait remplit dans les jeux précédent pour raison qu'il est le père de Miu et l'aimant de Miku qui tente par la suite de l'épouser sur le mont Himaki via le rituelle Postume du Yuuikon qui qui permet à un vivant d'épouser le mort de son choix en allant sur la montagne Himaki mais pour raison inconu la cérémonie du rituelle na pas marcher et Miku et lui ont été de nouveaux séparé !
Au cour de fatal Frame VI Miku se rend au Mansion Manoir et effectue le Rituelle United Wth His Last Life suite à un rêve dans lequelle Kirie Himuros lui est apparut pour l'informer qu'il est temp pour Mafuyu de quitter la Hell Get pour toujours et de revenir dans le monde des vivants
La réunion de Kirie Himuro et de son aimant à la fin de Fatal Frame VI engendre la libération définitive de la Hell Get et le retour à la vie de Mafuyu qui restera vivant dans les jeux suivants en tant que protagoniste principale
Background
The elder brother of Miku Hinasaki, the main protagonist from the first Fatal Frame.
Upon learning of Junsei Takamine's disappearance, Mafuyu prend le risque d'entré dans le Himuro Mansion pour essayer de le retrouver to find him.
The player controls him in the prologue, but control is then switched to Miku after he is attacked by Kirie Himuro. Although Kirie usually kills her victims, Mafuyu is spared due to his striking resemblance to her old lover.

The first ending is considered canon, the latter photo ending events infer-ably happened in the normal ending as well
Fatal Frame III: The Tormented
In the end of Miku's journey in her dream of the Himuro Mansion, she opens a door and the screen fades black and white. Miku then see Mafuyu's spirit walking to an almost endless hallway. Miku calls Mafuyu, but he doesn't answer. Miku starts running towards Mafuyu, and Rei emerges from Miku. As Miku runs away to see her brother, Rei attempts to follow her, but she was too fast and disappeared. As Rei wakes up, she discovers that Miku will not wake up. It became clear that she was possessed by Mafuyu's spirit.

Pendant sa course endiabler dans le manoir du sommeille pour essayer de rattraper Miku et la raméner Rei Kurosawa (Le protagoniste principale du jeux à plusieur flash et l'un d'eux présente une vision montrent très clairement Mafuyu bien vivant au côté de Miku devant le manoir entrain de regarder les âme emprisonner par la malédiction retourner dans l'au de-la après que Kirie est été de nouveaux vaincu par Miku !
Fatal Frame V: Maiden of Black Water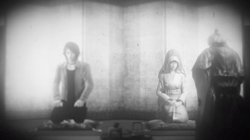 Mafuyu briefly reappears again in a cutscene in Fatal Frame V, in which he and Miku Hinasaki are joined by the Yuukon ritual, a form of posthumous marriage. Miku speaks often of Mafuyu and her longing to be with him again. Miu Hinasaki is revealed to be a Yomi Ko, the child of a dead person and a living one, and it is heavily implied in the game that Mafuyu is Miu's father, though this was not stated until the release of the official guidebook. The guidebook states that Miu was conceived in Miku's dream at the end of FF3, when she and Mafuyu were able to meet briefly at the Abyss of the Horizon.
LA MORT DE MAFUYU N'EST PAS INUTILE
Kirie Himuros na pas put retrouver l'âme de son aimant décédée après que Miku à levez la Malédiction pour raison que se dernier est toujours rester emprisonner des abysse par l'intermédiaire d'un seaux maléfique placée par le chef du clan Himuros après l'avoir assasiner pour l'empêcher d'être réunie avec Kirie dans la vie après la mort parce qu'il voulait s'assuré que l'amour ne détournerais pas Kirie de son devoir de vieger du sanctuaire des cordes !
Ce que Mafuyu avait comprit au moment de devoir quitter la Hell Get aussi avait-t-il décidé de se sacrifier en restant sur place et mouron dans l'éboulement pour soutenir Kiriedans dans l'accomplissement de son devoir bien que sa place à toujours été dans le monde des vivants aux côté de Miku et ces ami !
Tant que les deux aimants ne serons pas réunie il sera impossible à Mafuyu de retrouver sa liberter et de revenir à la vie et encore moins de quitter le Manoir Des Himuros parce que Kirie sera seul amprès
Pour pouvoir le liberé il faut que Miku retourne au Manoir des Himuros et accomplisse le Rituelle de l'United Wth His Last Life pour mettre fin au sort de séparation de Kirie et son aimant
Une fois qu'elle aura fait Miku pourra retrouver son frère et le raméner à la maison une fois pout toute
Etymology
The name Mafuyu means "real, genuine" (真) (ma) and "winter" (冬) (fuyu).
Mafuyu's surname Hinasaki means "chick, squab, duckling, doll" (雛) (hina) and "blossom" (咲) (saki).
Gallery