Mafuyu Hinasaki

Japanese name
雛咲 真冬
Romaji name
Hinasaki Mafuyu
Age
21
Hair color
Black
Eye color
Black
Occupation
Journalist/ Aspiring Folklore Author
Status
Mort /fin Canon Fatal frame

Vivant/ Fin Personnelle

Esprit (Fatal Frame III;Fatal Frame V) Résussité(Fatal Frame VI)

Vivant   (Fatal Frame VII,VIII,X,XI)


Family
Famille Hinasaki

Ryokan Kurosawa (arrière-arrière-grand-père) Ryozo Munakata (arrière-grand-père) Yae Kurosawa (arrière-grand-mère) Mikoto Munakata (grand-mère) Masato Hinasaki (père) Miyuki Hinasaki (mère) Miku Hinasaki (Soeur cadette/Compagne/Epouse par rituelle (Cérémonie échouer) Miu Hinasaki (fille)

Entourage proche

Key Amakura (Frére de Coeur/Meilleur ami/Equipier sur le terrain ) Yuu Asou (Frère de Coeur /Meilleur ami/Equipier sur le terrain /partenair de confiance) Takami Jusei(Mentor/Ami de confiance/Bienfaiteur )

Appearances
Fatal Frame

Fatal Frame III

Fatal Frame v

Fatal Frame VI

Fatal Frame VII

Fatal Frame VIII

Fatal Frame X

Fatal Frame XI XI

Voice actor (Jp)
Jun'ichi Kanemaru
Voice actor (Eng)
Dominic Allen
Mafuyu Hinasaki (雛 咲 真 冬 Hinasaki Mafuyu) est un personnage masculin et 1er protagoniste incarner par le joueur dans Fatal Frame jusqu'a son enlèvement mais suite aux évènement du Jeux il devient un esprit bénéfique et non agréssive dans Fatale Frame III: The Tormented et fait partie des proches décédée se trouve dans le Manoir de la Sommeille bien qu'étant mort dés le début du scénario il est très régulièrement évoquer ou mentionné par 2 des protagonistes principaux du jeux
Il ne fait sont apparition réelle dans le jeux qu'une seul fois et c'est durant sa brève rencontr avec sa soeur dans le couloir du Manoir des Himuros se trouvent dans le Manoir du Sommeille mais il restera Muet tout le long de leur rencontre avant de s'en aller sans lui prêter d'attention et de disparaîttre dans les ténèbre du Manoir
A la fin de Fatal Frame 6 Kirie Himuros est en mesure de se réunir avec l'âme de son aimant et est enfin en totalement en paix !
Sa présence à la Hell Get désormais totalement inutile Mafuyu est totalement réssusité en compagnie de son ami Yuu Asou et Ryoka Kurosawa qu'il a refuser de laisser derrière lui et est renvoyer dans le monde des vivants
Desormais doté d'une seconde vie et totalement libéré du Manoir Maudit Mafuyu partira immédiatement à la recherche de Miku tout en aidant Yuu à retrouver Rei et son passé !
Background
Frêre aînée de Miku dont il a toujours été très proche et qui est sa seul famille et d'ont il prend soin et s'occuper seul depuis le suicide de sa mère et la dispartion de son père
Meilleur ami de Key Amakura et Yuu Asou qu'il considère comme c'est frère et avec qui il à trés souvent travailler en équipe sur le Folklore osculte et certaine légendes urbaine régionale !
Mafuyu a une profonde confiance en eux mais à tendance à souvent les réprimender quand il trouve qu'ils exagère ou vons tros loins mais leur passe un savon quand l'un d'eux tente de filtré ou de Drager Miku surtout sous son nez
. En apprenant la disparition de Junsei Takamine, Mafuyu prend la déscisiont de se rendre lui-même au manoir Himuro pour le trouver au déspoire de sa soeur qui n'est pas parvenu à le convaincre de ne pas s'y rendre
Ayant présentie que qu'elle que chose de grave allait sans doute lui arriver une fois qu'il serait à l'intérieur du Manoir Mafuyu à prit contacte avec Yuu Asou alors installer à Aoyama 1 semaine avant son départ pour le Manoir Maudit et lui a confier la garde de Miku et lui à demander de prendre soin d'elle et veiller sur elle si un malheure devais lui arriver
Se qu'il avait accepter à condition que Key Amakura l'accompagne dans cette tache ce que Mafuyu a tout de suit accepté !
Le joueur le contrôle dans le prologue, mais le contrôle est ensuite passé à Miku après qu'il a été attaqué par Kirie Himuro.
Although Kirie usually kills her victims, Mafuyu is spared due to his striking resemblance to her old lover.
Depending on which ending the player gets, Mafuyu either stays in the mansion after the player defeats Kirie, saying that if her pain can be relieved if he stays by her side then he'll do it, or he will escape the crumbling mansion with sa sister, then commenting about how Kirie sacrificed her entire life and will continue suffering to bring other spirits to peace, or he will escape the crumbling mansion with his sister.
The first ending is considered canon!
L'aimant de Kirie Himuros étant prisonnier des Abysse à cause de l'assasin il lui est totalement impossible de'aller la retrouver et en encore moins d'être réunie avec elle à la Hell Get ce que Mafuyu avais comprit au moment ou il s'apprêtais à partir avec Miku
Fatal Frame III: The Tormented
In the end of Miku's journey in her dream of the Himuro Mansion, she opens a door and the screen fades black and white. Miku then see Mafuyu's spirit walking to an almost endless hallway. Miku calls Mafuyu, but he doesn't answer. Miku starts running towards Mafuyu, and Rei emerges from Miku.
As Miku runs away to see her brother, Rei attempts to follow her, but she was too fast and disappeared mais pendant cette cours elle a des vision dont l'une d'elle lui montre trés clairement Mafuyu vivant entrain de regarder le ciel aux côté de Miku !
As Rei wakes up, she discovers that Miku will not wake up. It became clear that she was possessed by Mafuyu's spirit.
Fatal Frame V: Maiden of Black Water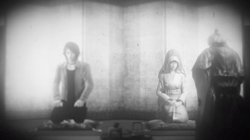 Mafuyu briefly reappears again in a cutscene in 
Fatal Frame V, in which he and Miku Hinasaki are joined by the Yuukon ritual, a form of posthumous marriage.
Seulement se rituel à échouer à cause de l'intervention du Manoir des Himuros qui les a séparé pour raison que la présence de Mafuyu à la Hell Get est temporaire aussi va-t-il l'emporter et le garder jusqu'au jour de l'accomplissement du Rituelle de la Réunion des corde
Miku speaks often of Mafuyu and her longing to be with him again sa fille Miu Hinasaki is revealed to be a Yomi Ko, the child of a dead person and a living one, and it is heavily implied in the game that Mafuyu is Miu's father, though this was not stated until the release of the official guidebook.
The guidebook states that Miu was conceived in Miku's dream at the end of FF3, when she and Mafuyu were able to meet briefly at the Abyss of the Horizon.

FATAL FRAME VI:La Réunion Des Aimant à la Hell Get et Résurection total dans le monde des vivant

A SUIVRE !
Etymology
The name Mafuyu means "real, genuine" (真) (ma) and "winter" (冬) (fuyu).
Mafuyu's surname Hinasaki means "chick, squab, duckling, doll" (雛) (hina) and "blossom" (咲) (saki).
Gallery