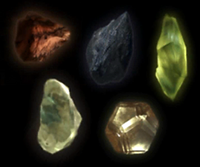 The Spirit Stones are comprised of special stones and crystals in Fatal Frame II: Crimson Butterfly. Their importance lies in their ability to store the memories and thoughts of people from the past. Villagers of All God's Village held these stones and imprinted in them their personal thoughts. By using the Spirit Stone Radio, Mio is able to listen in on these thoughts and glean from them what transpired before the Repentance.
Community content is available under
CC-BY-SA
unless otherwise noted.